I was going to post a message to my acount on Facebook - but just realised first that almost no information is on the news in English or any other language than Russian. And with the day off (holiday) tomorrow seems the journalists would not be able to make English version soon. Thus decided to do it here, and besides - add some thoughts of what could be done further from outside Russia.

A major criminal event happened today in the capital of Russia - Quote: upon direct order from the Mayor of the city Mr.Luzkhov Unquote. The land plot where a house, known as "Muromtsev's Dacha" was standing for years in now expensive area of Tsaritsyno park - is claimed, while neither people who live there and nor their house - are getting legal protection. Their house was first arsoned - and today demolished. Besides the fact that the house was home to six families for years and years - it was also a historically important building and even a museum was set up and maintained there thanks to inhabitants volunteer's efforts. This is all ruined as well.

Yes, update here - started the cause in Facebook - here. Open for support to everybody.

1. What happened today. The old house in Tsaritsyno, so called "Muromtsev's Dacha" that was arsoned deliberately during early January 2010 holidays - and whose inhabitants are living nearby in temporary sheds with (already lost today) hopes to restore the building when it gets warmer - was attacked in the darkness of Sunday morning by Interior police and OMON (special security forces on the Ministry of Interior). In spite of the fact that they did not show any document, in spite of many observers and supporters present, and in spite of the fact that the former house inhabitants tried to stay in the building protecting it literally with their own bodies - the fully illegal action continued at daylight. Tractor was brought - and to move it to the building few trees were logged and the fence had to be partly ruined. Then a substantial number of immigrant workers were brought, and under "protection" of police and OMON - cheap labour and tractor - pursued further demolishing. Meanwhile those who tried to protect what remains of the building were arrested, as well as a number of supporters and photographers. All day through more and more people are calling for this barbarism to be stopped. There is a flow of written complaints to the President - as nobody believes anymore in the Rule of Law at the lower levels. I myself clearly lost faith in the President of Russia - but also wrote my appeal to him to help support the people who fight for their home. The eldest inhabitant of this house was born there and his family lived there since the end of 1930s. According to Russian law - it is their living quarters because they have been living there for more than 15 years. Now this property - old historical building - is illegally demolished.

Besides few photos from the above on-ground reporters (at least two of them were arrested as well) here are the links for more information in Russian on what happened and still goes on today. Each of the link leads to more information and more photos.



See more here.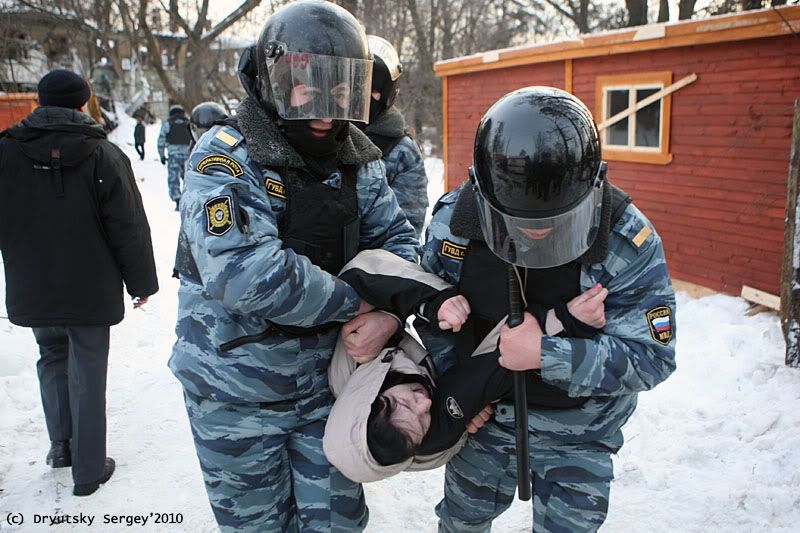 That is how the people who lived in the house before January 2010 - were "transported" today from the place. See more.


One of the boys from support group - it happens it is
gekkkon user - and the Interior Officer. See more here - ITAR TASS agent photos for non-commercial use.




Late afternoon. House mostly demolished. Tadzhiks who were cruelly used by Moscow authorities to do this vandalism - are loading what could be re-sold into the trucks... Former owners are not allowed to have access to what belonged to them - and have to stay behind barricades in one of the three cabins (the other two were already transported, literally - stolen by the authorities). See more.



10:20. Blogger and photographer Ivan Mitin
vanmeetin who was reporting from the site - arrested. His report from this morning is here.

2. Some history. In English - on the house and on the arson on January 3rd, 2010 - here. In Russian for those who can read - community of those who support the idea that the house should not have been demolished. A lot of legal and historical information - in Russian in the top post. All history of the house collated by
zverozyab - here in Russian.

That is how the house inhabited by at least six families looked last autumn and summer 2009.


From here (in Russian).

More photos and videos and history etc.etc. - on the website devoted to the house. English available.

3. What each of you could do.
Write yourself online to the President of Russia to act for the Rule of Law in this whole case. When you write here please state clearly the name of the place - "Muromtsev's Dacha". The rest depends on what you think yourself. NB: if you are the citizen of Russia - please write in Russian.
Help spread the information to press and media outside Russia. In whatever language.
If you spot a news item or an article in your language on this issue - please be kind to send a link (here in comments on via Facebook).
If you know that Russian VIPs will be visiting your own country - ask your President or Head of State to raise this issue.
This is again an example that there is no Rule of Law in Russia. Some readers on Facebook could remember yet un-answered Altaigate. Regretfully I am loosing hopes that Rule of Law in Russia could be fully protected from within my country itself. It is only international shame that might draw Russian athorities to fully protect the human rights of Russian citizens. Russia is my homeland country - and I am sad and often ashamed for what happens there. Regretfully - more and more often.

Thank you.
And apologies to Russian readers for the post in English - otherwise I cannot place all the links to Facebook wall appeal. Yes, also - this was written in quick though cold and balanced rage, thus - apologies for spelling and possible other mistakes.

REQUIEM. There is no house and there is no law. Sad.



И мои извинения тем кто не читает по английски.
Да, написано в порыве - посему не обессудьте если с опечатками.
Если вам попадется что-то на английском или любом другом не русском языке - пожалуйста кладите сюда в коменты.